You can save your file in any directory. Here it was saved in C: directory.
To look directory C: - look at number 1.
If it shows "Local Disc (C:) then you can proceed rightaway. If it shows something else you need to find c directory to save your file.
- To find c: click on the arrow shown in number 1.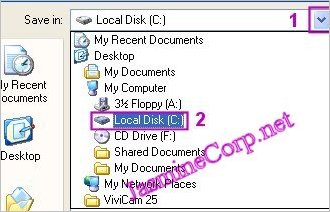 - Then select C: directory as shown in number 2.
- Now look again, number 1 box should show directory C:

Now click on "Save". Your file was saved in directory C: